I really should have seen this coming.
But no. I have been cruising along, blissfully unaware of the upcoming decisions that are going to have to be made.
I have a Diaper Bag Dilemma.
As in, I haven't picked any out that I like.
And here's where I should have seen it coming....

(and probably where I lose some readers...

please don't hate me.

)
I don't like purses.
I have owned 3 my entire adult life.
I used the same one all 4 years of high school.
I don't like carrying them.
I leave them everywhere.
I have literally had my purse mailed to me from different states.
(yes, that's plural because it has unfortunately happened more than once.)
So here I am, 33 weeks pregnant and all of a sudden I realize that even though I have said things like
"Oh, this will be handy to keep in the diaper bag."
The bag in question...has yet to be found...because I wasn't looking.
I did manage to fine one that I thought was cute.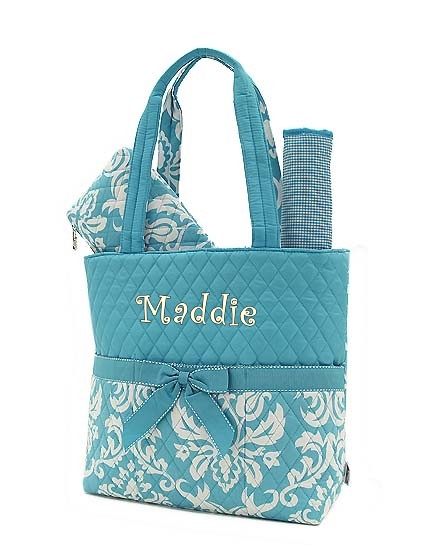 It obviously won't say "Hunter" cause that isn't Pipsqueak's name, but you get the idea.
And here is the point where I come to you begging for help.
If you could find it in your dear, sweet hearts to resist the urge to stone me, run away screaming and de-follow me for not liking purses, just long enough to suggest some cute diaper bags, I will be eternally grateful.
Just think, you're saving me from being the chick that throws all my baby stuff in a plastic grocery bag.
And we all know that plastic grocery bags are bad, so by helping me, you're helping the enviroment!
It's a win-win.
Please?
P.S. I love shoes....if that makes you feel any better.